I happy to introduce my book – Science Meets Vedanta. This book is now available worldwide on Amazon. It has 37 essays.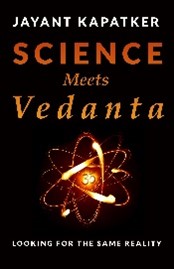 Many of you who followed my posts had suggested I should compile them into a book. Based on this feedback, I undertook this task in October 2020. To create the book, I rewrote the content, added brand new content and added more than 50 illustrations. The book was then professionally edited to make it compact, readable and presentable. The 37 essays are broken into the following four groups
Concepts: This is essential reading. The key concepts from Vedanta and science are covered here. These essays must be read and understood properly. They are important because these concepts are the foundation of most of the essays that follow.
Vedanta: The more you learn about and understand Vedanta, the better you can appreciate how the teachings can help science. The essays in this section cover a good cross-section of key topics in Vedanta.
Science: In these essays, science "meets" Vedanta. I have taken a range of topics and shown the influence Vedanta can have on science. With the help of Vedanta, a new dimension is added, a new perspective is given to science. Vedanta helps remove many obstacles faced by science.
Cosmos: In these essays, the cosmos "meets" Vedanta. There is so much misunderstanding and confusion in understanding space and the universe "out there." Based on the logic of the teachings of Vedanta, we have resolved many of the issues in these essays.
The book is available as an ebook, as a paperback and a hard cover (in some markets). Just go to Amazon and search for – Science Meets Vedanta. I do hope you will support this book.
It will be very nice if you can share this information with your family, friends, and other WhatsApp's groups.
Do contact me if you have any questions. Thank you.